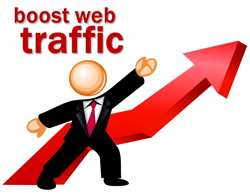 Here is a list of what are some of the tools that have proven to be successful for small business to improve web traffic.
1) Use Videos on Your Website The advantage that small and local business have over large chains is your personality. Therefore create videos so that your customers can meet you before they hire or buy something from you.
There are three types of videos that are working best:
 Introduction videos – "meet you"
Testimonials – It is more believable for your customers to brag about your service or products that you telling them how great you are.
Instructional videos – This is where you demonstrate "how to" on a product or service. (How to fix your sink).
Business that have 3 or more videos on their site are report a greater success with their online marketing efforts.
2) Promote Your Phone number and Email Everywhere
Customers want a person with heart and soul, this is a huge advantage small business.  Make it extremely easy to contact you by placing your phone number, web address and email address in your header, footer, and sidebar.
3) Quality Content
Here is the general thinking behind quality content. Google says that if you write quality content, then you are providing useful and relevant information to the people searching. People will value your content so much, that they will naturally link back to it. This part of content marketing is what we call organic back linking. These back links are formed naturally, without asking.
4) Create Effortless, Predictable Navigation
When you create your website's navigation, you should make it predictable and easy-to-use because people want to browse your website effortlessly.
How can you keep your navigation predictable? Place it where people expect to find it, which is at the top of the page or in the left sidebar.
Also, when you create the navigation, use the words people are accustomed to seeing. For example, if people want to reach you, they'll look for "Contact" or "Contact Us." If you use something clever like "Holla at me" you may lose potential customers.
5) Establish Credibility
The consensus online is that you must give away something, like a white-paper, to get leads. However, when you're a local business, that simply isn't true. Being local and credible is enough.
For example, if you're a electrician, it doesn't matter if you wrote an ebook on how to be a electrician. Instead, you're going to want a conversation with your customer-that's why you use video.
You don't even need that much content. All you have to do is look credible and show your customers that you have their back.